KB Blacklist
What is KB Blacklist?
The KB Blacklist is a functionality that allows you to dynamically restrict access to your ecommerce solution. It thwarts the ever increasing malicious behaviour online and the associated risk of fraud. It restricts opportunities for hackers to attempt to execute brute force attacks and upload malware as well as preventing known fraudsters and touts from completing transactions.Please download the KB Blacklist (711kb Word document) which discusses KB Blacklist in more detail.
KB Blacklist: Blacklisted IP: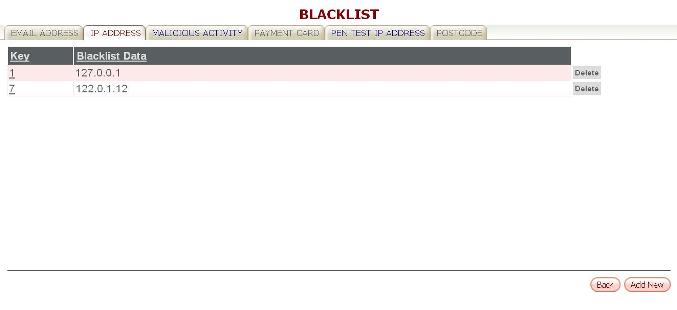 KB Blacklist Setup
You control the creation of blacklists by adding, deleting or editing the settings from a management control page for each type of blacklist.This back office management setup can be added to your existing ecommerce solution with anonymous access turned off. That way, only authorised users can control the blacklist setup plus this can be maintained from anywhere, not just the Ticket Office or the IT Department.
The currently supported blacklisting types are as follows:

Email Address Blacklist: Users login email address.

IP address Blacklist: IP address of the machine being used to access the website.

Pen Test IP Address White List: White listing penetration test performer companies.

Postcode Blacklist: Users postcode.

Card Number Blacklist: Users credit or debit card number.

Blacklisting Malicious Activity: Monitoring unwanted files
KB Blacklist User Presentation
You can set up a specific blacklist via the blacklist back office maintenance forms and how the result of that process gets presented to the user.Please download the KB Blacklist (711kb Word document) which discusses KB Blacklist User Presentation in more detail.
All the error messages that get presented to users are configurable and can be modified as required.
More Information
If you require more information about the KB Group email suite then contact us to discuss your requirements.